Support Free Virtual Camps For Girls
Start A Fundraising Page
Career Girls Virtual Camps
Enjoy the highlights of the Career Girls 2022 Artificial Intelligence Virtual Camp.
Your support will allow us to expand our free Virtual Camp programs to include even more girls. Visit our Global Giving fundraising page to create a fundraising page to help us reach our goals for this project.
Global Giving Fundraising Page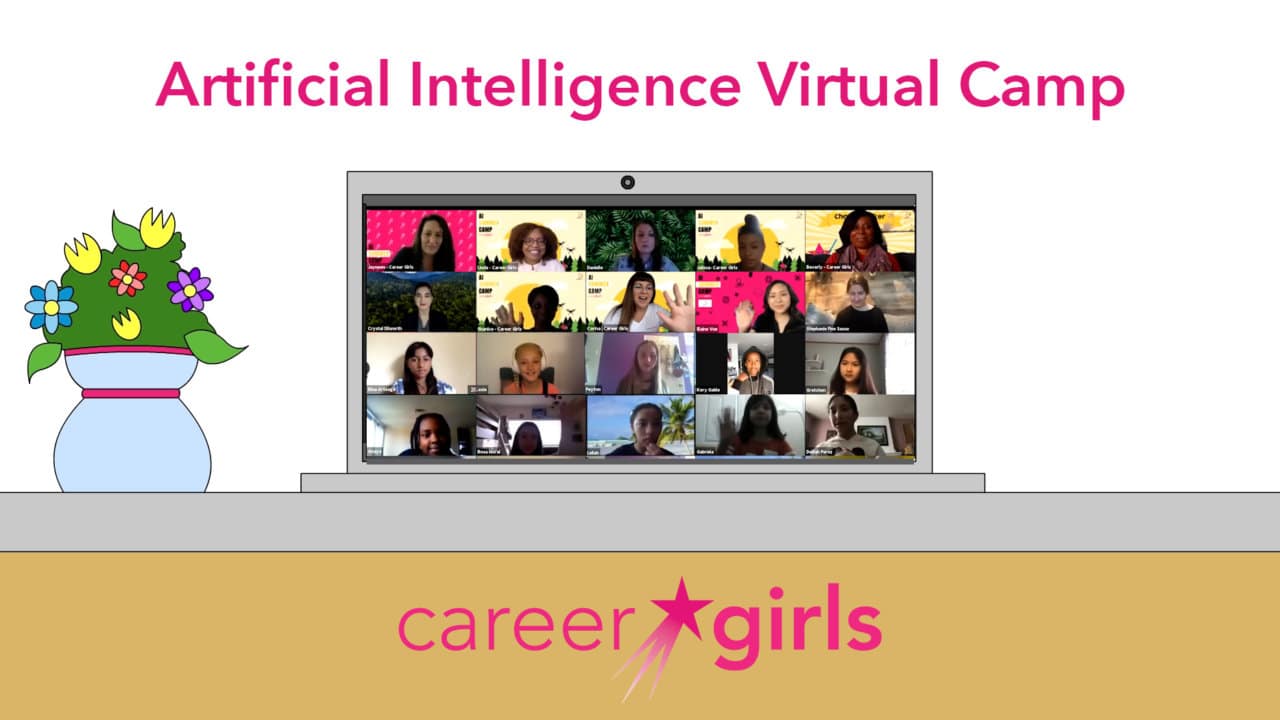 Project Summary
Your donation will help us close the Imagination Gap and reach our goal of welcoming more girls to our 6 Virtual Camps planned for 2023, as well as expanding our in-person Career Girls Clubs to new schools in the SF Bay Area and Washington D.C. Metro Area.
The Challenge
Women, especially BIPOC women (Black, Indigenous, People of Color), are underrepresented in science, technology, and entrepreneurship. In our society, the "Imagination Gap" - the difference between career choices that girls imagine for themselves and the range of careers actually available for them to pursue based on their interests - is still too common. Girls, particularly BIPOC girls, may not see themselves in higher-paying jobs in the future; they may not know that careers even exist.
Our Solution
Career Girls' programming proves that empowering girls with access to diverse and accomplished women role models is essential for opening up their worlds to new career possibilities in the future. Our guiding principle for our programs is that every girl who attends sees herself in one of the role models, learns from her experiences, and discovers her own path to empowerment. With your help, we are building the next generation of environmental scientists, roboticists, CEOs, and more.
Long-Term Impact
This project directly enhances girls' opportunities to enter the workforce in critical industries. The results are higher incomes, higher living standards for women and their families, and stronger, more inclusive solutions to address critical challenges facing our world.
Here's What Girls Had To Say:
"What I like the most was seeing so many role models who look just like me thrive in careers where they are just as smart and persistent and are just as acclaimed and praised as the men beside them. The role models were just so inspiring."
"Thank you to all of the role models for taking the time out of your day to join us at the Career Girls AI Summer Camp!"
"It was so interesting to see how cool, helpful and powerful AI can be with creative ideas."
"I loved them all! Every presenter talked about their jobs as if it were the best thing that has ever occurred to them!"
"I enjoyed getting to learn about some of my favorite subjects with so many girls just like me. Especially when we used the Sphero Mini Robot. That was fun to learn about and play with."
"My favorite part was meeting new role models every day, learning about their jobs and their journey, being able to ask them questions."
More ways to donate:
Sign up at Amazon Smile. At no cost to you, Amazon makes a donation to Career Girls with each purchase.
Involve your place of work. Ask to include Career Girls in their annual philanthropy. Many companies such as Microsoft, IBM, and Google either match employee donations or contribute money for each volunteer hour.
Donate appreciated stocks or other assets. Don't overlook potentially significant tax benefits. Contact us to learn more.
Use your Donor Advised Fund (DAF). Initiate a donation from your DAF or use this DAF Direct donation link.
Career Girls is a tax-exempt 501(c)(3) nonprofit organization (Tax ID# 45-4825616). Your contribution is tax-deductible to the full extent allowed by law.