Support Free Virtual Camps For Girls
Start A Fundraising Page
Career Girls Virtual Camps
Enjoy the highlights of the Career Girls 2020 Artificial Intelligence Virtual Camp.
Your support will allow us to expand our free Virtual Camp programs to include even more girls. Visit our Global Giving fundraising page to create a fundraising page to help us reach our goals for this project.
Global Giving Fundraising Page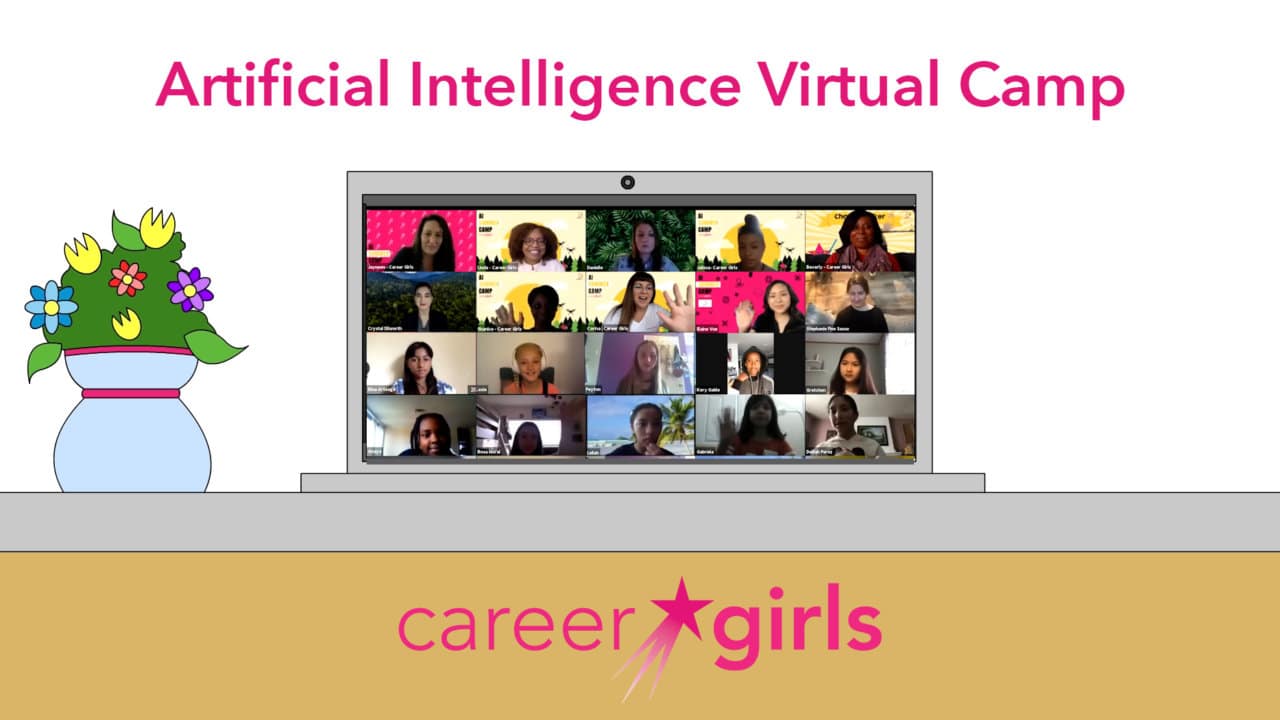 Project Summary
This project will fund a series of virtual camps for girls led by diverse women leaders in artificial intelligence (AI), entrepreneurship, environmental science, and financial literacy. These inspirational camps feature industry-leading role models and are offered free of charge to girls of all backgrounds. Career Girls believes girls and young women have the right to dream. Your donation gives girls education and resources to make their dreams come true.
The Challenge
Women, especially BIPOC (Black, Indigenous, People of Color) women, are underrepresented in science, tech, and entrepreneurship. Studies have shown that girls suffer because they don't see women in these roles. Without interventions like this project, girls abandon science and other STEM-related subjects by age 15. It permanently affects the rest of their careers. Society suffers because we are not taking advantage of the full talent pool to create a better, more prosperous world for everyone.
Our Solution
Inspiration and education change lives. Your donation will directly fund a series of high impact virtual camps designed to help girls of all backgrounds create a blueprint for their future careers. The camps give girls access to industry-leading women and supportive peers. Through high-quality virtual education, we ensure that girls' futures are not put on hold due to COVID-19. With your help, we are building the next generation of environmental scientists, roboticists, CEOs, and more.
Long-Term Impact
This project directly enhances girls' opportunities to enter the workforce in critical industries. The results are higher incomes, higher living standards for women and their families, and stronger, more inclusive solutions to address critical challenges facing our world.
Here's what girls had to say:
"What I like the most was seeing so many role models who look just like me thrive in careers where they are just as smart and persistent and are just as acclaimed and praised as the men beside them. The role models were just so inspiring."
"Thank you to all of the role models for taking the time out of your day to join us at the Career Girls AI Summer Camp!"
"It was so interesting to see how cool, helpful and powerful AI can be with creative ideas."
"I loved them all! Every presenter talked about their jobs as if it were the best thing that has ever occurred to them!"
"I enjoyed getting to learn about some of my favorite subjects with so many girls just like me. Especially when we used the Sphero Mini Robot. That was fun to learn about and play with."
"My favorite part was meeting new role models every day, learning about their jobs and their journey, being able to ask them questions."