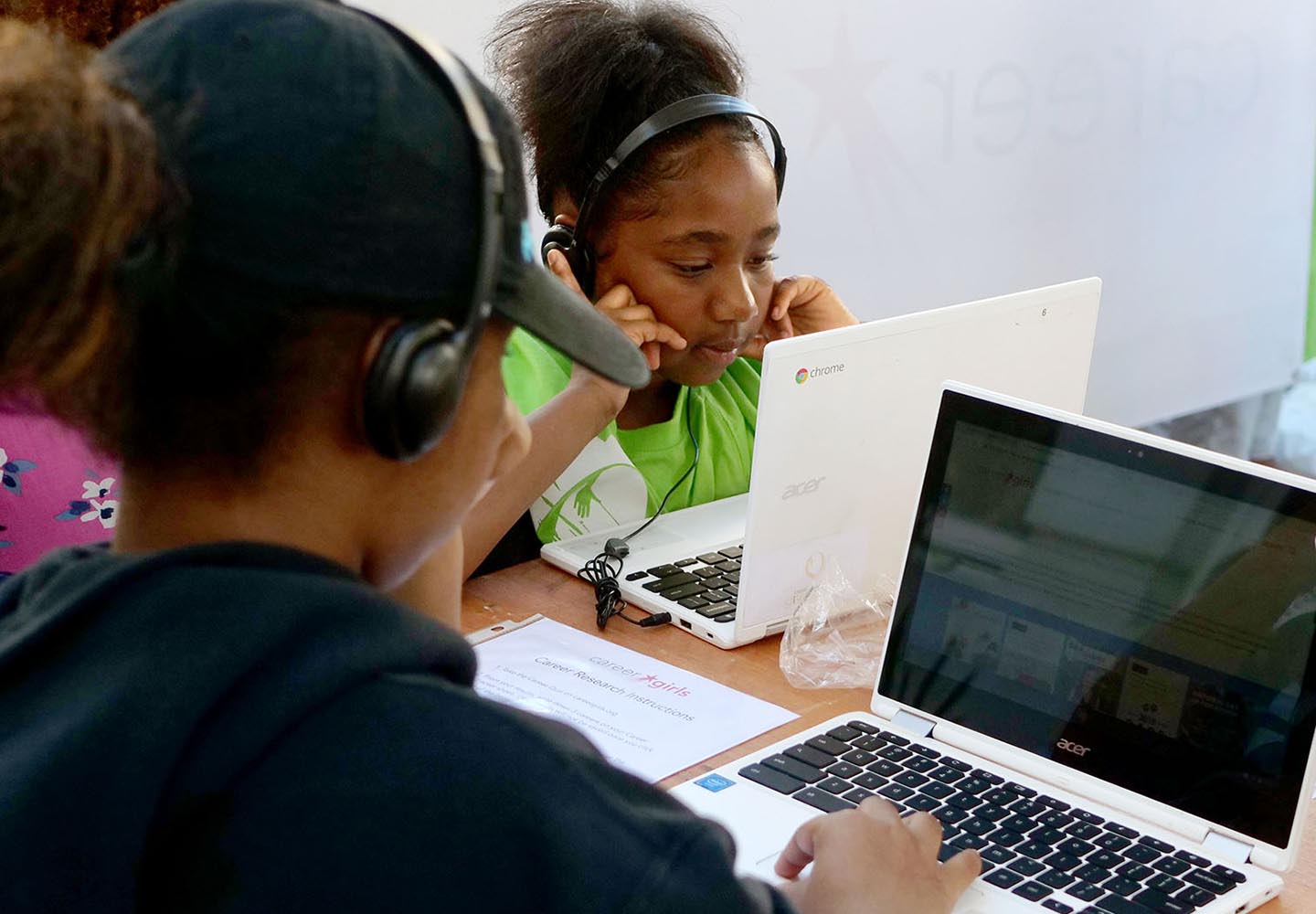 Educators, Family & Mentors
The road to empowerment and independence begins with education. Career Girls role models add a real life context.
Do you know an aspiring astronaut, architect, or actor? How about a girl who dreams of being a surgeon, a software developer, or a dentist, or wonders what it might be like to be a firefighter, a forensic scientist, or a federal judge?
Girls need to start early building skills for their future careers. But many girls lack access to role models who can inspire them to imagine all that they can achieve — from academic success to amazing careers.
Career Girls is helping to change this. Career Girls is a free, noncommercial, online platform dedicated to making sure every girl around the world has access to diverse and accomplished women role models — women who can help girls learn to believe in themselves, imagine what is possible, and go after their dreams.
Career Girls brings together hundreds of accomplished women working in cities across the United States — Houston, Chicago, Philadelphia, Washington, D.C., St. Louis, Boston, New York City, Detroit, Atlanta, San Diego, Los Angeles, San Francisco, and countries around the world. Through a series of videos, each role model shares the story of her career journey, in her own words and in an easily accessible format. What skills from her childhood does she still rely on today? What is a typical day like in her career? What obstacles has she overcome? Who are her heroes?
Our role models answer these questions and many others to provide an engaging and comprehensive look at wide-ranging careers. Role models also share favorite subjects in school, discuss the education they pursued to achieve their goals, suggest reasons to consider different careers, and offer helpful advice for getting there.
Career Girls places a focus on STEM fields, but our role models also represent careers in medicine, business and finance, public service, media and communications, education, law, food and nutrition, sports, arts and entertainment, and more — connecting academic studies with a real-world context. These role models guide girls in learning more about careers they may already be interested in pursuing and many more they may not have known were even possible.
One of the easiest ways to teach with Career Girls is through our Empowerment Lesson videos which organize content by topic or theme. These under-three-minute video clips feature accomplished, diverse, and inspiring women who share straight-to-the-point insights and advice — making this series an ideal jumping-off point for in-depth learning experiences.
Career-Based Empowerment Lessons are centered around career exploration and include titles such as "Career Exploration 101" and "Why Choose STEM". Skill-Based Empowerment Lessons focus on the knowledge and soft skills required for social and emotional learning (SEL) and success in the workforce, and include titles such as "Becoming a Leader", "The Importance of Integrity", and "The Importance of Teamwork". You'll also find free, downloadable educational resources (PDFs) to support each Empowerment Lesson.
Donate
"I really believe that people are all planted with the seed of I am here to do something great." – Claudia Rinaldi, Career Girls Role Model
Three things I have learned from Career Girls: "One, that women can do anything, two, never give up and three, we are strong, intelligent and we have the power to change the world by working in the fields that we are passionate about." – Isobel, Student